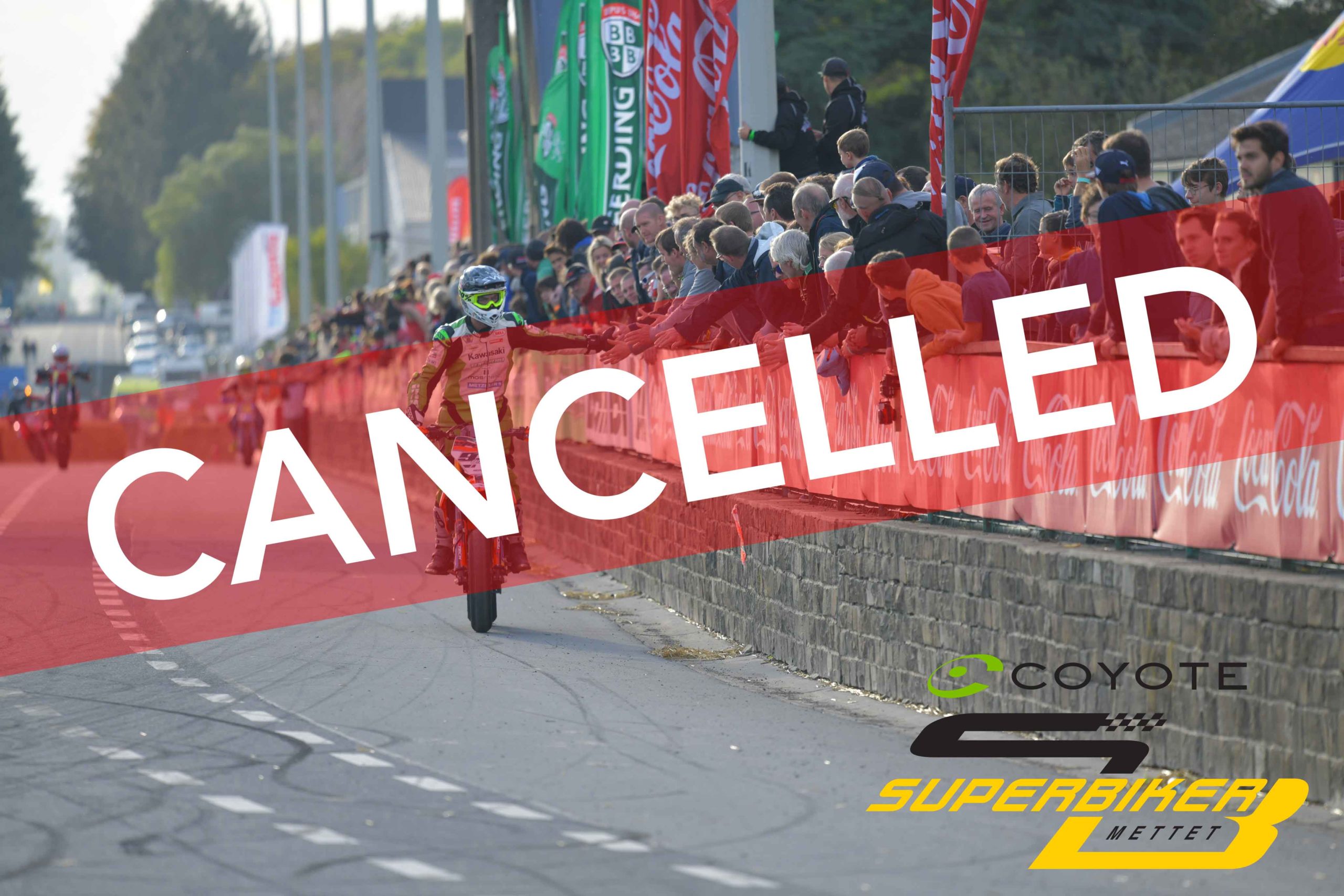 09 Jun

The 34th Coyote Superbiker cancelled
An open Supermoto event will however be organized on the permanent Jules Tacheny Circuit at the end of the season
In consultation with the City of Mettet, RUMESM, the organizing club of the Coyote Superbiker, has decided to cancel the 2020 edition which was taking place on the Circuit Jules Tacheny on October 9, 10 and 11, 2020, because of the too many uncertainties surrounding the sanitary measures to be adopted to guarantee the health security of all. RUMESM however announces the organization of a SUPERMOTO open event, which will take place on the  Circuit Jules Tacheny track.
Cancellation made inevitable due to uncertainties related to sanitary measures
The COVID-19 health crisis plunged Belgium and the world in general into an extraordinary situation. To date, the organizers of the Coyote Superbiker are in total blur on the measures that will have to be taken in October to guarantee the health security of the public (30,000 people each year), pilots, members and volunteers of the organization.
The decision was therefore made to cancel the Coyote Superbiker which would have taken place on October 9, 10 and 11, 2020 at the Circuit Jules Tacheny in Mettet.
Freddy Tacheny, Chairman of RUMESM (Royal Union Motor of Entre-Sambre-Et-Meuse), explains: "This is a historic and unfortunate first for our event which has existed for 33 years: there will not be a Coyote Superbiker this year. It is with great regret that we must cancel it because we are passionate volunteers and the Coyote Superbiker is the apple of our eye. It is a very cumbersome event to organize and this hypothetical framework does not allow it. As for organizing an event like this behind closed doors, it is simply not possible, a Coyote Superbiker without its audience would not be a Coyote Superbiker. It is a real disaster for us, both passionately and rationally. After the cancellation of Bihr Bikersland, Classic Wheels, the now confirmed one of Coyote Superbiker, and the long closure of our permanent circuit, our non-profit structure is put under very strong financial pressure. "
Creation of a festive event focused on the permanent track
For RUMESM, however, there is no question of a completely lost year. The association announces the creation of a SUPERMOTO OPEN CONTEST, allowing better control of sanitary measures. The date is still to be fixed but will be at the end of the year.
RUMESM would like to thank the volunteers, sponsors, the City of Mettet as well as all the fans and all the people who support the Coyote Superbiker and is looking forward to 2021 for a next edition.